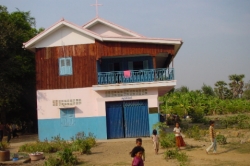 History: The Phnom Thom Home is located in the northwestern part of Cambodia, in the district of Banteay Mean Chey Province. This province borders Thailand. Many of the villagers do quarry work, but the majority of the people are poor rice farmers.
The home was built in 2001, but a pastor was serving the needs of orphaned children in his home for several years prior to its completion. The major factors causing the large number of orphans are landmines, war, and diseases carried by mosquitoes.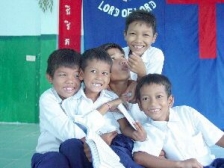 Goals: Phnom Thom Foursquare Children of Promise Home cares for children orphaned by war, landmines, and the rapid spread of disease. The children are provided with spiritual, physical, social, and emotional care daily. The goal is to nurture and build up the next generation of Cambodian people so that they will rise above their history of despair to become the future hope of their land.
Program: The children attend a government school located about 7 miles from the home. There they study math, science, history, and health.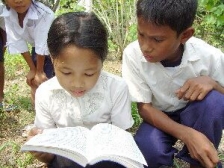 The children garden and help raise papayas in the home's orchard.
The children take part in devotions twice daily.
The children also participate in recreational activities such as running, playing soccer, and reading the Bible. They also study English in the home.